The Duke and Duchess of Cambridge's royal Caribbean tour may have come to an end but the controversy surrounding it – in particular, the use of certain outfits and cringeworthy photo opportunities – demands further discussion.
Last Wednesday, as part of their Jamaica stop, the Cambridges attended a formal dinner hosted by the country's Governor-General. Duchess Catherine wore a custom emerald gown by British designer Jenny Packham. The ready-to-wear version retails for $AU6,669.
In 2020, Jamaica's national gross income per capita was $AU6,100. If the Duchess and her team had wanted to redirect focus from the Crown's brutal history, they should've picked a different dress.
Jamaica, Belize and the Bahamas were all stops on the eight-day tour. After close to 400 years filled with slavery, colonisation, oppression and neglect these Caribbean countries and six others, including my island home, Grenada, still politically recognise Queen Elizabeth II as the head of state.
Even with this relationship, Caribbean citizens are allowed no special privileges when it comes to entering, working or living in Britain. In fact, only four years ago the British government wrongly threatened to deport children of the Windrush generation – people who came to Britain to fill post-war labour shortages.
As a Grenadian woman, born in the capital, my family forced upon the island in shackles, my identity is intertwined with the Caribbean; past, present and future. Yet, it's a struggle to get the world to understand the true story of my birthplace.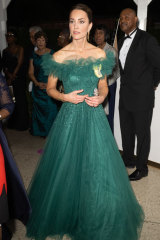 It's easier for people – the majority of whom have never set foot in the Caribbean – to fall into fantasy, rather than acknowledge reality. Most commonly I'm met with idyllic, romanticised visions of an island paradise, a mecca for cruise lines that dock in the same ports that held slave ships.
It is well documented by now that the British monarchy has its claws deep in the history of slavery. Queen Elizabeth I approved the first British ship carrying enslaved Africans in 1562. The people and the land were exploited for close to 300 years before slavery was formally abolished. But the legacy of Britain and its monarchy lives strong in the islands. Institutionalised racism, illiteracy, poverty, subpar public health and education facilities are the reality behind the island postcard, stamped with Queen Elizabeth II's image.