Bitcoin Price Prediction: Crypto adversary Gary Gensler-led US Securities and Exchange Commission's action against the two largest crypto exchanges Binance and Coinbase put Bitcoin price approaching an inflection point.
Traders expect Bitcoin (BTC) and Ethereum (ETH) prices to continue sideways movement for at least a week. Bitcoin is set to have bullish summer despite the Coinbase and Binance lawsuits, looming CPI, PPI, and US Fed Interest Rate Decision next week, and US Treasury issuing T-bills.
BTC Price Approaching Inflection Point
In the weekly timeframe, Bitcoin price is bouncing from the weekly 200-EMA. Moreover, the diagonal resistance and horizon support are forming a triangle and the BTC price moves closer to the apex for a bullish breakout.
It indicates BTC price to have mostly sideways movement in the coming weeks. Bullish action will start as the price approaches the apex of the triangle, which is expected in July or early August.
In the daily timeframe, BTC price retests the bottom of the cloud. Bitcoin is expected to also bounce from daily 200EMA. Until then, the price action will mostly depend on market activities and macro factors. However, BTC price is unlikely to cross $30,000 before August.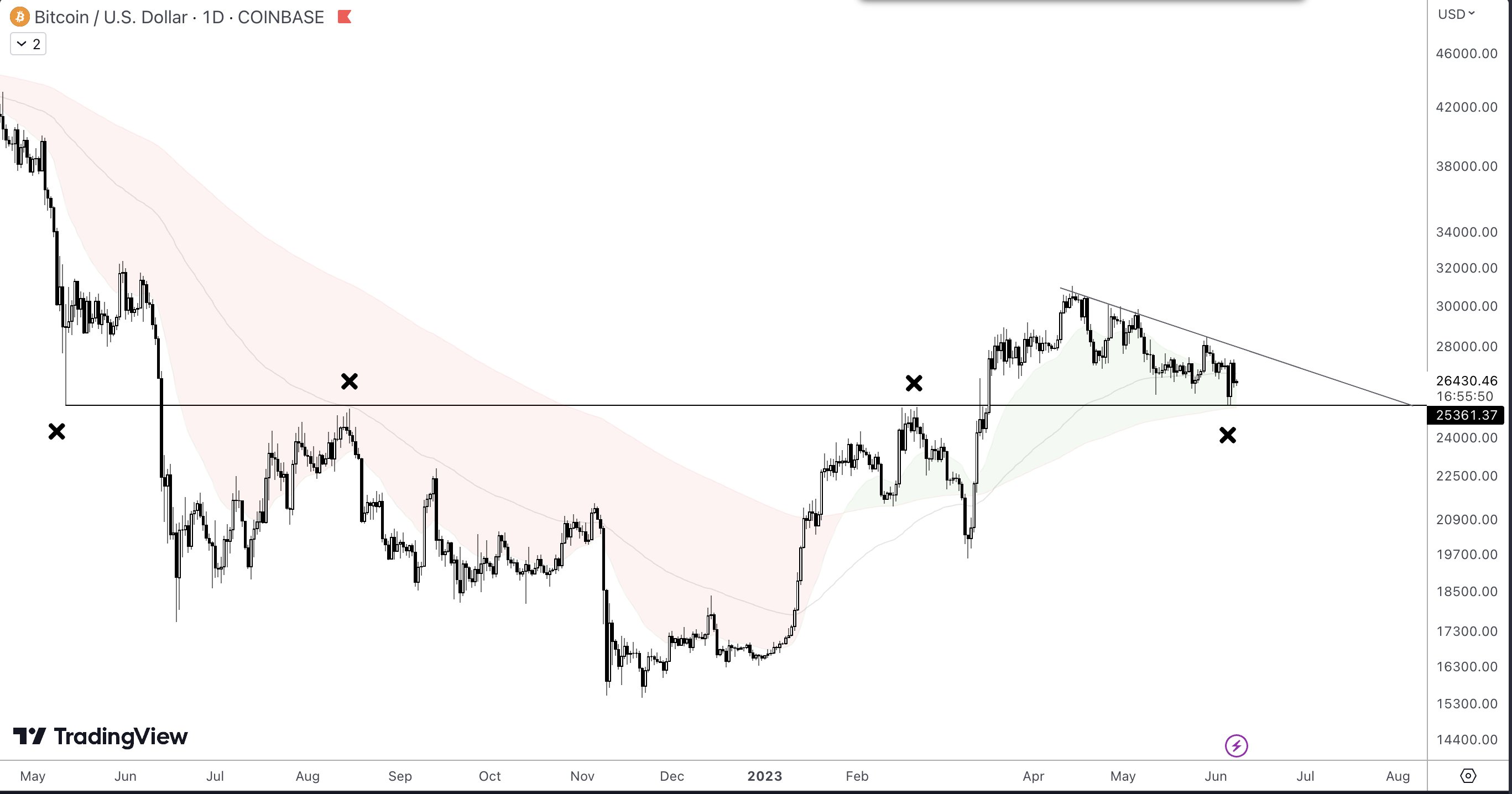 Whales have already started to buy the dip after the Binance and Coinbase lawsuits. Popular analyst Credible Crypto predicts if Bitcoin reclaims $27.5k, we are continuing on the path to new all-time highs.
Also Read: Crypto Market Defies US SEC; Bitcoin, Ethereum, And Coinbase (COIN) Rally
Bitcoin and Ethereum Price Prediction for the Week
Bitcoin and Ethereum prices will remain under pressure as the US Treasury Dept is expected to issue $1 trillion in treasury bills by the end of the third quarter. US dollar liquidity drain out due to T-bills will primarily impact stock markets more than the crypto market.
The CPI, PPI, and US Fed Interest Rate Decision on June 13 and 14 could help traders determine market reaction for the next few weeks. The US Federal Reserve looks to "skip" rate hike in June. The CME FedWatch Tool shows a 70% probability of the Fed keeping its policy rate unchanged.
Meanwhile, a dormant wallet transferred 1,432.93 BTCs worth $37.8 million to a new address after more than 10 years of inactivity.
BTC price fell 2% in the past 24 hours, with the price currently trading at $26,410. ETH price currently trades at $1,839. The 24-hour low and high are $1822 and $1874, respectively.
Also Read: Prosecutors Track Crypto Worth Millions Belonging To Do Kwon And Terra
The presented content may include the personal opinion of the author and is subject to market condition. Do your market research before investing in cryptocurrencies. The author or the publication does not hold any responsibility for your personal financial loss.