It's a question I'm tired of being asked.
I don't need to get married. I just want to.
We might blame Disney for instilling the (irrelevant) life goal of finding Prince Charming to achieve the "happily ever after" myth. I'm not naively thinking that marriage guarantees eternal happiness and that I need my "prince" to feel complete.
I was financially and emotionally independent before I met my partner. We now own a home together and share an awesome life of travel and adventures, but we still value our separate hobbies and interests, often doing things without the other.
Once we're married, our union won't change our lives all that much. I'm not even taking his name.
So why does a piece of paper matter so much to me?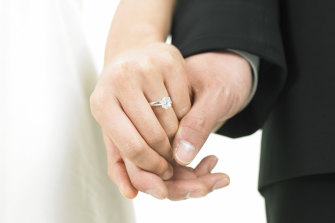 Maybe I just want what everyone else has.
Maybe I just want a day when I (and my hubby) can be the centre of attention.
Maybe I just want the "happily ever after" fantasy.
Loading
Or maybe I just want something fun to look forward to. After the dumpster fire of 2020 – and now 2021 – who can blame me?
My partner and I are each other's biggest fans. We encourage one another to pursue our passions and live our best lives. Above all, we share a loving, supportive and fun-filled life.
If that's not reason enough to gather 100 of our nearest and dearest for a humble brag, I don't know what is!
We considered a small elopement, or saying "I do" at the marriage registry. But after the emotional rollercoaster to get us to becoming Mr and Mrs, we're ready to celebrate once we're allowed to.
We're happy to wait out this pandemic and tie the knot when we can have a big party. But with all the emotional eating that comes with planning and postponing a COVID wedding, let's hope I still fit into the dress!
Mel Buttigieg is a freelance writer.