This is not just for the Smooth FM crowd who constantly play Fleetwood Mac'sTusk with the term #wolfcut scoring 695.7 million views on TikTok, having orginally resurfaced in the androgynous corners of the K-pop scene.
"It's all about empowering the face. People have been looking after their skin and want a bit of oomph. Face framing layers, highlighting your eyes and cheekbones, is what people should be asking for."
2. Bieber rocks
With Melbourne's social scene on hold, Rocuzzo turned to this year's Met Gala for inspiration, bypassing the more outrageous styles such as tennis champion Naomi Osaka's batwing hair, and homing in on model Hailey Bieber's relaxed waves.
"People have learnt to embrace their natural curl and waves while at home," Rocuzzo said. "The most requested styles will be undone and textures." And for those without a natural wave? "You can have waves created by a curling iron but don't look like it."
The move towards relaxed hair, tousled from the beach or the bedroom has been charted by a shift in the products Rocuzzo sells, with customers moving away from strong-hold sprays to sea salt mists.
3. Farrah Fawcett lives again
"This is Farrah Fawcett as if she were alive today," Xydis said of Charlie's favourite angel who had women requesting long, feathered hair to achieve high volume in the late '70s. "There's just a bit of Claudia Schiffer thrown in, along with some Cindy Crawford."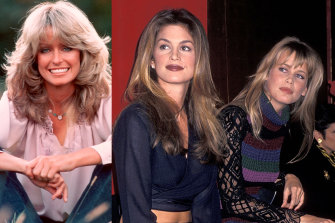 The key to updating the supermodel style is making sure the face is framed by a sweeping fringe and layer, upon layer, upon layer of hair.
"This can work with a peek-a-boo fringe, chin bangs and cheek bangs. It's all about the cut. Let's face it, colourists have had all the attention for the past few years so let's move beyond that and get back to basics with a good cut."
4. Keep up with Kendall Jenner
"Everything needs to be effortless," said Rocuzzo, who is getting her inspiration from the supermodels of today, specifically the Kardashian-adjacent Kendall Jenner.
"Kendall is probably responsible for the strong '90s looks that we are seeing with hair. It's that pulled back up 'do that people will be after. It's less structured than a '60s updo. You want to make it look as though you've casually pulled it up and yes, you can have face framing tendrils."
To achieve this cultivated-to-look-casual style, Rocuzzo suggests asking your hairdresser for face-framing layers and then investing in the ultimate '90s hair accessory, the claw clip.
"It's all very Rachel in Friends and Kendall has brought the look back. Prepare to see it everywhere."
5. For the boys
Anything resembling "being scalped to make up for the last three or so months" is out for men, according to Sydney hairdresser Anthony Nader, who has ran his fingers through the hair of Zac Efron and models David Gandy, River Viiperi and Jordan Barrett.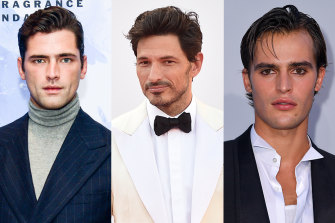 "My celebrity go-to styles are Andres Velencoso, Sean O'Pry and Parker Van Noord. These three guys are fine examples of what my male clients are leaning towards. It's the haircut that doesn't appear to look like you've just had the shears zoomed up the head in two minutes flat."
For Nader the added centimetres means more to play with and greater texture, advising business types to rediscover the joys of gel for Zoom calls or textured paste if you're after something more carefree.
Make the most of your health, relationships, fitness and nutrition with our Live Well newsletter. Get it in your inbox every Monday.