Loading
During scenes showing Evangelista, 58, receiving treatment for cancer and talking about complications from a fat-freezing treatment, the model says: "I can celebrate a scar but to be disfigured is not a trophy. I can't see how anybody would want to dress me?"
In this moment, Evangelista is at her most beautiful.
When describing alleged experiences of domestic abuse with her first husband and agent Gerard Marie, you see only vulnerability. "He knew not to touch my face – not to touch the money-maker, you know?"
Marie has denied the claims, along with numerous allegations of sexual assault from other women, including model Carré Otis.
"I would love for justice to be served. I would love for assholes like that to think twice and be afraid. I would love women to know they are not alone," Evangelista says. This quote should become more famous than anything about waking up for less than $10,000.
Kryptonite: Fashion. On returning to the Fendi runway last year: "After all these years, I didn't want to hide any more."
Naomi Campbell
Superpower: Patience
For those who have been kept waiting by Naomi Campbell (my hand is in the air here), every minute was worth it when she finally arrived and delivered more than you expected.
The sad irony made clear from The Super Models, is that Campbell has been kept waiting for most of her professional life.
In the series, Campbell, 53, who continues to work for luxury labels on the runway and in commercials, had to wait for the big dollars that were handed to Crawford, Turlington and Evangelista. Campbell would regularly turn up to shoots only to be turned away or not used in the final advertising campaign image.
"Naomi wasn't always booked to do the shows," Evangelista says in the series. "I didn't understand. Naomi, I thought, was more beautiful, had a much more rocking body than I did and a better strut. [I was] like, 'Why aren't they booking her?' I said to them, 'If you don't book her, you don't get me.'"
Campbell was the first black model to appear on the cover of French Vogue in 1988 and to open a Prada show in 1997.
Loading
The racism endured by Campbell on photo shoots, with pay discrepancies and in her media portrayal, contributes to the complexity of her character, which has often been portrayed as difficult.
Campbell's strength — especially recalling her first US photo shoot, on a former slave plantation — is overwhelming.
"I started to understand that, culturally, I was going to have to work really hard to feel accepted," she says.
Having appeared on the runway for Calvin Klein as far back as spring 1988, Campbell didn't appear in their advertisements until 2019.
The joy Campbell takes in her success appears worth the wait.
Kryptonite: Vivienne Westwood platform shoes. Campbell's runway fall in 1993 wearing Westwood shoes is legendary.
Cindy Crawford
Superpower: Cool Mum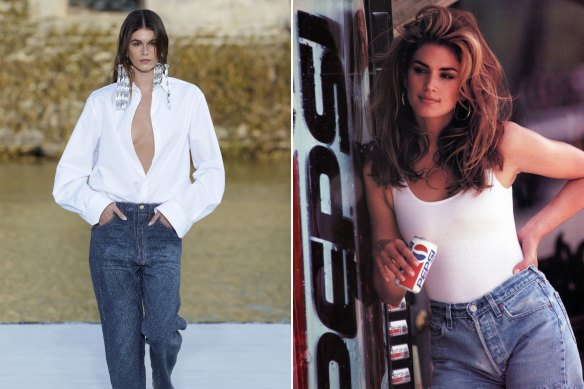 Crawford was the first of the four models to cross over into the mainstream, creating her own workout videos, spruiking Pepsi, being immortalised in Prince's creepy 1994 sulk song, Cindy C, and appearing in Playboy in 1988.
Throughout the documentary, Crawford radiates the cool mum energy she projected in Taylor Swift's Bad Blood music video, showing a clear understanding of her value, a strong work ethic and acceptance of fashion's ridiculous aspects.
From committing to a lifetime of bouncy hair — after having hers cut without her permission early in her career — to being treated "like a chattel" in a 1986 interview with Oprah Winfrey, where she was made to silently stand and show her body to the audience, it is clear that Crawford has lived and learned.
"When you look at it through today's eyes, Oprah's like, 'Stand up and show me your body. Show us why you're worthy of being here,'" Crawford says.
The YouTube clip of the Oprah interview has been removed since The Super Models began streaming this week.
With every knockback, Crawford came back stronger. After enduring an unpleasant experience working on Sports Illustrated's swimsuit edition, Crawford launched her own swimsuit calendar.
Her cool mum energy reaches its peak in the final episode where she explains why she let Kaia enter the industry. "Today, everyone is a model," she says.
Kryptonite: Acting. Crawford's film debut in the 1995 film, Fair Game, with William Baldwin was a rare career misstep.
Christy Turlington
Superpower: Pretty Zen
Throughout The Super Models, Turlington, 54, radiates the calm of a woman who has been practising yoga for decades, coupled with the knowledge of probably being the most beautiful woman in any room she walks into.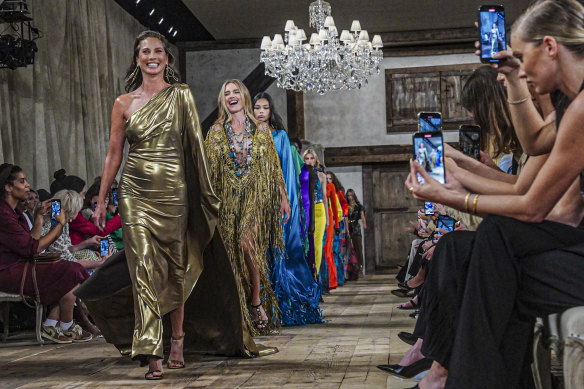 Turlington had the big contracts with Calvin Klein, Revlon and Chanel, and a Hollywood marriage to Ed Burns, and weathered the years without scandal.
The NYU graduate uses her platform to campaign against smoking, and promote women's health in childbirth with her charity, Every Mother Counts, but still managed to bring her best to an unflattering Ralph Lauren gown at New York Fashion Week this month.
Kryptonite: Nothing. Turlington is modelling's Teflon.
Make the most of your health, relationships, fitness and nutrition with our Live Well newsletter. Get it in your inbox every Monday.