Pro tip: "Substitute the gold beads for a gorgeous metallic glitter, and keep the shape defined, whether it be a wing or a halo effect," suggest Buss. "To heighten the colour payoff, wet your eyeshadow brush down with some setting spray. This is a game-changer when using pigments!"
"This can be very, very messy, so holding folded tissue beneath the lower lash line whilst you apply the pigment is a great way to avoid a glitter explosion," she advises.
Big brows
Full, brushed brows and ultra-dewy, illuminated skin is also the order of the day with Ginger & Smart and Maggie Marilyn's shows highlighting skin as the hero. "This is the most flattering and wearable look you can easily create at home," says Buss. "Look for an amazing brow sculpting product to keep hairs in place, brushing it through, then press off the excess product by pushing your fingertip in an upwards motion, it will give hair a nice shape," she says.
Pro tip: "To achieve that beautiful translucent glow to the skin, start with a face oil, then massage in a hydrating lotion," says Buss. "Gradually build coverage by smoothing on an illuminating primer and then lightweight foundation," she says. "A water-based foundation is always a go-to for me when wanting that natural glowing face!"
Wet-look hair
It's not the first time we've seen wet-look hair, nor will it be the last. Maybe it's our post-pandemic refreshed eyes, but this season's versions seem more approachable and fun. KITX's Resort 2022 collection had a focus on protecting our oceans, which was reflected in the tousled wet-look hair. "A smoothing balm, oil and hairspray combination will help you to achieve this look," says Buss. "It can be tricky not to overload with too much product, so use sparingly and in small steps. Once you go too far with it you can't go back," she advises. Or maybe start smooth instead, like the Mariam Seddiq models who showcased wet look up-dos that felt modern and sophisticated.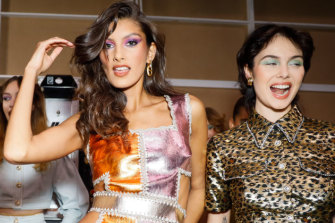 Pro tip: "For a sleek look, add interesting moments with your baby hairs and carve out little swirls around the hairline using the end of a fine-tooth comb," suggests Buss. If you're wanting more of a tousled look, go in with a mermaid hair tool or wand first to create some texture in the hair, and use a scrunching method with your products for that beachy just-stepped-out-of-the-ocean vibe."
Sorbet shades
Colour lovers rejoice because this season will be serving up sorbet a-plenty and all manner of pastel moments. Alice McCall's retro-inspired Resort 2022 'Discoteca' collection went big and the eye makeup was an explosion of punchy gelato shades, blended to perfection, with the occasional extreme eyeliner (trend of the season, of course.) Romance Was Born – another high-energy, colourful collection – also featured dreamy pastel combinations, and Ginger & Smart highlighted gorgeous, pigment-rich pastel shadow paints. "This is a really feminine and beautiful trend – great for warmer months but really flattering to liven up the skin in winter too," explains Buss.
Pro tip: "To start, try keeping it quite monochromatic across your eyes, cheeks and lips, by using multipurpose products like tints and creams," suggests Buss.
Make the most of your health, relationships, fitness and nutrition with our Live Well newsletter. Get it in your inbox every Monday.