"I'm giving very much Megan Monroe," Stallion, wearing a baby pink dress from Coach, said. For Scottish aristocrat Leslie, accompanied by husband and Games of Thrones co-star Kit Harrington, finding her look was a two-step process. "We were wanting to go for art deco but with a modern concept, but we wanted to end with old Hollywood glamour," she said.
For supermodel and reality star Kendall Jenner, American glamour was a recreation of Audrey Hepburn's My Fair Lady look through the filter of Las Vegas by Givenchy. In a surprise twist Jenner's sister Kim Kardashian, usually an ambassador of nude illusion dresses, staged a hopefully ironic Greta Garbo "I want to be alone" moment, arriving fully masked in black Balenciaga couture.
Joining Kardashian with the stunt approach were those seeking to achieve the same legendary meme status as Rihanna's 2015 Met Gala dress by Guo Pei. Singer Frank Ocean inexplicably nursed a robot doll, veteran model Iman dressed like two crop circles in a sea of gold, while singer Grimes in Iris van Herpen carried a sword made from melted firearms.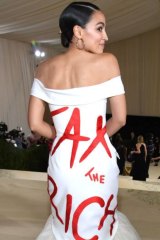 The most obvious statement of the night belonged to politician Alexandria Ocasio-Cortez, wearing a white tuxedo-inspired dress by Aurora James with the statement "Tax the rich", before taking her seat at the $US35,000 ($47,597) a ticket event.
Ocasio-Cortez was prepared for the future cries of hypocrisy. "We can't just play along," she said. "While The Met is known for its spectacle, we should have a conversation about it."
Soft politics was also present by the number of openly LGBTQIA+ guests. Australian singer Troye Sivan paired a black singlet dress with a Cartier necklace, supermodel Cara Delevingne's white bib invited readers to "Peg the patriarchy", Schitt's Creek creator Dan Levy wore a lurid Loewe tribute to marriage equality while Dear Evan Hansen singer Ben Platt was a rhinestone cowboy in Christian Cowan.
"America equals gay," Platt said. The arrival of flamboyant rapper Lil Nas X added weight to this view, in a series of three Versace looks that transitioned from a royal cape, to glistening armour before ending with a bedazzled bodysuit.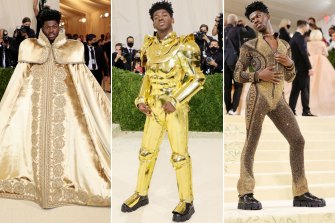 Before any right-wing protesters were roused, Jennifer Lopez arrived in predictably revealing Ralph Lauren with a cowboy hat and Ben Affleck.
Hollywood glamour restored once again. All was right with America and the world.
Click through for the most talked about looks from the 2021 Met Gala.
Make the most of your health, relationships, fitness and nutrition with our Live Well newsletter. Get it in your inbox every Monday.