One night, off the coast of Mexico, the vessel hit something. "I don't know what it was but it did enough damage to my boat to slowly start to sink it," she says. After being rescued, she spent six months in Mexico working out how to get home. "Everything went down with the boat – I didn't even have any shoes."
Once home, Sarah went back to university to study design, which had always been a passion, and set up her own design studio. A couple of years later she was living with her partner in a town that wasn't "a good fit for me", and longed to be somewhere remote, with big horizons, by water.
While reading about the west coast of Tasmania, she discovered a small shack for sale and bought it, sight unseen. "I just thought this faraway cabin was my solution. I thought I'd go down there for half the year and work in this beautiful little place that felt like being on my boat, then half the year I'd come back … and deal with the real world. So that was the plan."
Her first impression on seeing her new property? "It was basically an old shed that was falling apart – and not in a good way. But it didn't matter to me because I knew I could make it into the space I wanted."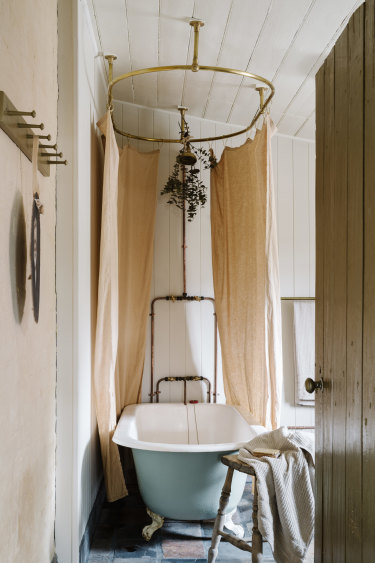 With the help of a builder, Sarah restored the cabin, replacing windows and doors and finding pieces to bring the interior to life, styling the inside on a budget of just $800. Then, suddenly, she had to change tack.
"I got really sick and had to quit all the work I was doing," she says.
"I moved back home with my parents and because I wasn't working and my marriage had fallen apart, I had to put Captains Rest on Airbnb to try to raise some money for myself, to pay my medical bills. It was a really tough time – it needed to work."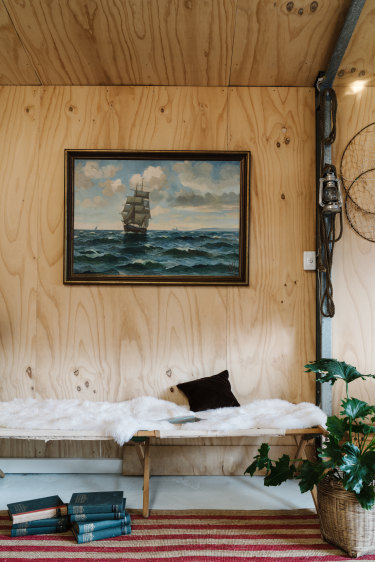 When we talked, Sarah had just spent a week at Captains Rest – the cabin is usually booked months in advance but became free due to a lockdown cancellation. "It's hard for me to get in there because I'm not a planner. I took the opportunity to go and restyle, spend some time with the ducks and enjoy it," she says. A family of wild ducks are regular visitors.
The "story" of the house is Sarah's starting point for each project. "Whenever someone is in a space that I've done, their usual comment is that they feel like they never want to leave," she says. "Which is such a good thing to hear because that's always what I'm trying to achieve."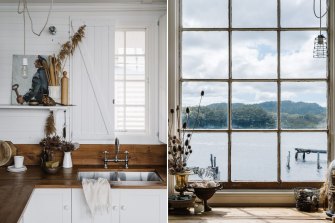 Sarah's style tips
Shopping: Sarah's favourite places to source special items include The Drill Hall Emporium and Miss Arthur Home Goods in New Norfolk, Tasmania. On Instagram she likes Scout + Bird, Family Founded, Curated Spaces and Flynn Home Store.
Must-have: Is there one thing Sarah always includes? "If it's for me, it's a bath – because I'm a bath person," she says. "Also, I'm a bit of a creature of comfort, so I like to have beautiful spots to sit and relax in different spaces in a house."
Principles of Style (Simon & Schuster Australia) by Sarah Andrews is out on September 29.
This article appears in Sunday Life magazine within the Sun-Herald and the Sunday Age on sale September 19. To read more from Sunday Life, visit The Sydney Morning Herald and The Age.
Make the most of your health, relationships, fitness and nutrition with our Live Well newsletter. Get it in your inbox every Monday.