Describing the glittering Jenny Packham gown worn by Kate Middleton, Duchess of Cambridge, to the London premiere of James Bond's latest outing No Time To Die as a "revenge dress" is petty and reductive but if binge-watching The Crown has taught us anything, it's that the royals have feelings too.
With Middleton having been pitted by the public in an eternal sartorial battle with Meghan Markle, Duchess of Sussex, who recently resurfaced in New York wearing understated stealth wealth labels The Row, Max Mara and Armani, this extravagant caped gown with sheer panels and gold sequin detailing, can be interpreted as an exquisite and indulgent princess fantasy.
The overall effect is royal glamour, enhanced by touches of Saudi Arabian excess, with Middleton's hair sculpted in an Italian jet set updo, making room for circular gold earrings by O'nitaa, designed to steal the spotlight from other guests. Gold princess rather than Goldfinger. Shorthand translation: Meghan who?
Even with Prince William on her arm, Middleton's glamour gambit made her the perfect Bond Girl to Daniel Craig's suave spy, wearing a raspberry velvet, double breasted dinner jacket. This was obviously not an undercover mission with Craig riding the pink suiting wave recently surfed successfully by Jake Gyllenhaal at the Tony Awards in Prada.
Wearing pink could be a nod to Bond's ongoing reinvention from womanising relic to woke assassin, with Fleabag's Phoebe Waller-Bridge having been brought on board as a writer to update the spy's controversial image. Waller-Bridge's image remained flawless on the red carpet wearing a sequinned jumpsuit with plunging neckline from Azzaro, made fit for the royal line up including Prince Charles, by an understated coat.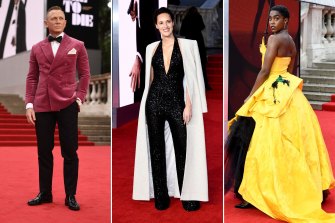 There was nothing understated about Lashana Lynch's look-at-me red carpet moment in a voluminous canary yellow and black strapless gown. Lynch has crossed over from the Marvel Universe where she played Maria Rambeau in Captain Marvel to become the first female 007, creating buzz with bold colour choice.
Following in the jet stream of Middelton's cape was French actress Lea Seydoux, returning to the Bond franchise and publicity circuit in a 1930s-inspired Louis Vuitton gown with silver sequins and a cape of its own. On this occasion gold trumped silver and Seydoux's Bond Girl status was somewhat overshadowed.
After her triumphant turn at The Met Gala, cinched in Oscar de la Renta, singer Billie Eilish dropped Marilyn Monroe from her moodboard and returned to a more relaxed, familiar tunic and trousers silhouette in black sequinned Gucci. Eilish recorded the film's title song, following in the footsteps of Shirley Bassey, Duran Duran and more recently Sam Smith.