Good lighting is crucial for creating ambience and setting the mood. Our top picks from local designers and further afield.
Where to buy: Menu "Torso" table lamp, $286, from Finnish Design Shop. Sarah Ellison "Alchemy" table lamp, $1950. IEFrancis "Loop" pendant light ($480), crafted from one piece of vegetable-tanned leather.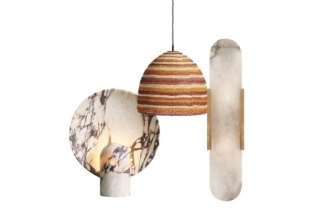 Where to buy: Henry Wilson "Calacatta Viola" surface scone, $2950. Koskela "Yuta Badayala" pendant light by Rosemary Gutuli, $1675. Kelly Wearstler for Visual Comfort "Melange" wall sconce, $1450, from Bloomingdales.
Where to buy: Sophie Davies "Twister" floor lamp, $2200. Shades Launay "Le Bambou" lampshade, $260. Santa & Cole "Cestita Bateria" portable lamp, $926, from Ajar. Domayne "Harper" table lamp, $299.