Australians have taken up DIY van conversions in droves recently, with the demand also leading to a spike in sale prices.
On Facebook page Vanlife Australia, member numbers have skyrocketed during the pandemic, according to Dr Raymond Forghani, who helps run the page.
"This time last year the group had around 7600 members – now we're more than 40,000," he says, putting the growth down to factors including international travel restrictions, housing affordability and a shift to working remotely.
For some, like camera assistant Sarah Turner, who lives in Melbourne's Newport, being out of work during lockdowns has provided one silver lining: plenty of time to get on the tools.
The 43-year-old, who bought a Renault Master van a couple of years ago for work, is spending her days transforming it into a vehicle she can also travel in.
"There are only so many shows you can watch and only so many coffees you can walk to go and get, so it's a good distraction," she says. "And it's enjoyable seeing something come together that you've built yourself."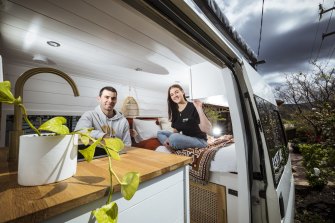 Turner has consulted Google and YouTube, and benefitted from the shared knowledge on Facebook.
She says she is a "fairly technical person", having studied both architecture and photography before winding up in the film industry.
Turner plans to travel to Central Australia and Queensland in the van next winter with her partner. Her parents will join in their camper trailer.
On van rental platform Camplify, the number of newly renovated vans listed jumped 150 per cent in June, compared to the same time the year before.
Melbourne couple Sarah Parker, 21, and Mason Kirby, 24, are among those listing their vehicle for rent when they're not using it.
Over six weeks, they transformed a Ford Transit van into an Insta-worthy holiday getaway vehicle.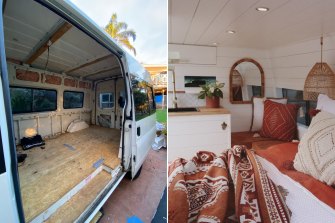 Kirby, a former landscaper with a variety of trade skills, says the project was a "saviour" during lockdowns. "If we're lost for something to do we'll just go out to the van and just tinker on it for an hour, two hours."
Parker says they've made plenty of mistakes along the way, and their best advice to others is to spend lots of time planning.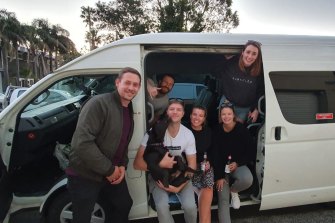 In Sydney's Bondi, Rose Freeburn, along with her partner and two other couples, spent a happy eight weeks or so doing up a van together, which they also rent for some of the time on Camplify.
Freeburn, 25, says the group was inspired by a road trip up to Byron Bay in-between lockdowns in August last year.
Two weeks later, the group of six had bought their own Toyota HiAce.
Freeburn says renovating "Rollie" gave the tight-knit group – five of the six are British – a shared purpose during "some pretty bleak weekends".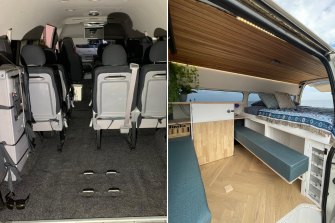 They haven't ruled out renovating more vans down the track, so they can all go away together, she says.
"But we need the HiAce market to drop down a little bit – honestly it's hotter than Bitcoin at the moment."
Make the most of your health, relationships, fitness and nutrition with our Live Well newsletter. Get it in your inbox every Monday.