"Sure," I tell her, "but what if the light at the end of the tunnel is an oncoming train? Shouldn't we keep up the morale builders just in case?"
Her answer is "no". The Cobbler Line, it seems, is an immovable barrier. Once erected, it's impossible to traverse. It's the iron curtain of food choices.
Worse, The Cobbler Line not only affects food. It controls all of life.
"The TV binge watching also has to stop," says Jocasta. "Three series of Inspector Morse was one thing, but who knows where it will lead? Inspector Morse is a gateway drug. You start out on Morse – well written, not too dangerous – and three months later, you're sprawled on the couch, semi-comatose, heartbeat flatlining, watching your tenth episode of Midsomer Murders. Well, not on my watch."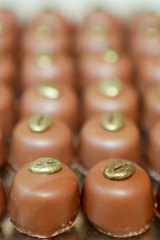 She flings me a copy of an edgy, new Australian novel and suggests I get on with it.
"Emerging from lockdown is like rehabilitating a prisoner after a long period of incarceration," she explains, as she consumes the last of the Haigh's chocolates – "just to get rid of them" – and places the empty box in the bin.
"You can't expect to walk out of the prison gates without preparation," she says.
"Life is not like The Blues Brothers. You won't have someone waiting outside the prison gates, wearing a dark suit, sunglasses and a black hat, and driving a second-hand police car, ready to transport you back to your old life. You'll need to find your own way back to normal."
Jocasta may have a point. Standards have fallen, especially during the second lockdown.
In terms of personal appearance, I'm now taking styling tips from the Unabomber. I no longer bother with gel, or even a hairbrush. Some days I look like I've been electrocuted. Einstein was better coiffured. My fingernails are worse. I look like Edward Scissorhands.
Loading
Meanwhile, at work I've gone from a freshly pressed shirt and tie to a T-shirt with holes in it. I'm three weeks off a sarong and flip-flops.
Then there's the drinking. If you were wondering why the Australia Post parcel system collapsed last week under the strain, it was mainly all the boxes of shiraz making their way from Coonawarra to me.
The "three days a week off drinking" slipped to two days during the first lockdown, to one day in the current lockdown, with the word "off" redefined to include as much beer as I like.
"Beer is still alcohol," says Jocasta, unhelpfully, although we all know that the Germans don't tax beer due to it being a food stuff. Quite right, too. With no cobbler available, one must search for much-needed calories wherever one can.
I face a new reality. John Barilaro has his roadmap to normal, and so does Jocasta.
The house must be cleaned so that it is once more fit to accept guests. My car – a travelling Petri dish of discarded masks – must be made ready for passengers. And, most importantly of all, the extra kilos must go.
The prison gates will open soon, says Jocasta. We're allowed an hour or two in the exercise yard and we must make use of them.
Loading
I find the dessert cookbook has been hidden away, to be replaced by a CSIRO guide to healthy living. Jocasta mutters threateningly about yoga and Pilates. It may well come to salad for dinner.
The lockdown has been tough. I can't wait for it to end.
But I will miss some of its consolations. Like the sound of Jocasta's late-night lockdown love-song: "here's your cobbler, cobber".
Oh, sweet music, how I shall miss thee.
GREATER GOOD
In need of some good news? The Greater Good newsletter delivers stories to your inbox to brighten your outlook. Sign up here.