When it comes to reality television role models, Australian designer Joshua Scacheri is following in the tottering heels of Jessica Mauboy rather than Guy Sebastian's swagger-fuelled steps. Like Australian Idol runner-up Mauboy, Scacheri who appeared on the latest season of the Heidi Klum Project Runway update Making The Cut, is hoping to overcome a swing and miss for the top prize.
With the debut runway appearance of his new brand Love Hero at London Fashion Week on Saturday, the designer who first gained sartorial recognition in Brisbane will promote his latest incarnation as a champion of sustainability, prints with a punch and suiting so relaxed that it could easily be dozing.
"When I was knocked out, I was the frontrunner," said Scacheri, who left in episode 5 of Making The Cut, screening in Australia on Amazon Prime, while Chicago dress designer Andrea Pitter went on to be awarded the $US1 million ($1,366,643) cash prize. "The internet went crazy."
On the series Scacheri managed to snatch airtime from the judges, Moschino designer Jeremy Scott and model Winnie Harlow, to extrapolate on the principles of his new brand Love Hero, even though it was still an idea germinating off camera.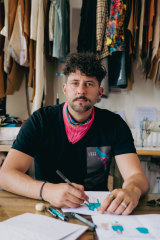 "We had the culture of the brand," Scacheri said, having developed a concept around sustainable fashion first explored by his partner Tanja Mrnjaus and their friend Heather McDonough. "We just didn't have the essence."
In a series of Red Bull-fuelled challenges, the essence took shape, or at least congealed, as the show's judges repeatedly asked Scacheri to revisit the work he first explored with his pioneering label Subfusco, which delivered a contemporary take on tropical tailoring to the Brisbane market from 2006 to 2011.
"Every day was like Fashion Week. The judges were showing me pictures of stuff from 12 years ago and after a while you think that if it's still good after all of this time, there must be something in it."
Bright blue blazers with airy mesh back panels and gently sloping shoulders made their way from the series to Love Hero's range, which is overrun with psychedelic print jumpsuits, super-chill kimonos and on-trend high-waisted, wide-legged pants.